Blog Posts:
So long, and thanks for all the fish
John Donnelly, 22 December 2017
Thanks to Douglas Adams for the borrowing of his title. It's also relevant to Nauru, which – as former Minister for Fisheries Valdon Dowiyogo noted – is on the tuna highway, with fish swimming through Nauru's Exclusive Economic Zone in all seasons contributing one-third of Nauru annual revenues.
I'm posting this short farewell from Australia, where I have returned after two years as High Commissioner to Nauru. I am enjoying spending the festive season with my family and friends.
My time as High Commissioner was productive, interesting, and above all rewarding, to name just a few. I enjoyed getting to know Pleasant Island enormously. I miss my daily swims at the Anibare Boat Harbour, and the community that welcomed me.
I hope by launching this blog that I have been able to provide a glimpse into the broad-ranging, extraordinary work that Australia does in partnership with Nauru. I now pass the baton to my successor as High Commissioner to Nauru, Ms Angela Tierney. I look forward to reading her instalments from Australia, and continuing to follow Nauru's progress in the 50th anniversary of independence year 2018.
Tubwa kor me tarawang
John Donnelly
Former High Commissioner to Nauru
Gender equality and empowerment of women and girls: our shared efforts in Nauru
High Commissioner John Donnelly, 7 December 2017
I am pleased to be writing my last blog post as High Commissioner on a topic very important to me, and one that has been a priority during my time on Nauru.
Gender equality and empowerment of women and girls is one of six priority areas in Australia's development cooperation. The Department of Foreign Affairs and Trade has a Gender Equality and Women's Empowerment Strategy that establishes gender equality and women's empowerment as part of all our work, particularly focusing on:
enhancing women's voice in decision-making, leadership and peace-building;
promoting women's economic empowerment; and
ending violence against women and girls.
Nauru, like Australia, is making great progress in these areas but many challenges remain. I wanted to provide a few examples of particular events and achievements I look back on and consider representative of our important partnership in gender equality.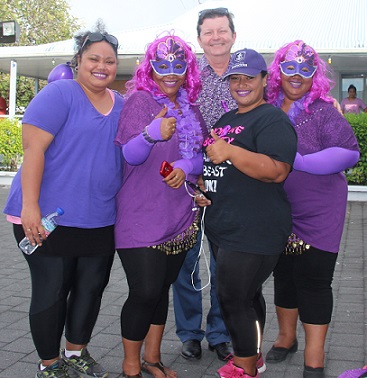 We have regularly partnered with Women's Affairs (Nauru Department of Home Affairs) for International Women's Day and the International Day for the Elimination of Violence Against Women. These events promote gender equality principles and draw attention to important issues in our communities.
Most recently, as part of the 16 Days of Activism Against Gender-Based Violence, on 27 November I led a 'Men in White' motorcade. I hosted an afternoon tea at my residence to present many of those riding with certificates for their participation in Male Champions workshops, and Deputy High Commissioner Suzy Wilson-Uilelea gave a moving speech to the gathered crowd.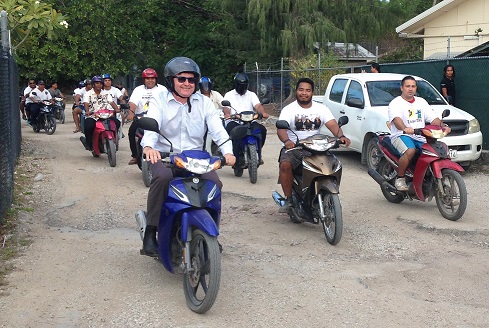 These events build on the work we are doing across our activities to make sure gender is front-and-centre. In 2018 ten of our 18 Australia Award scholarships have been given to highly qualified women. I'm also pleased to that one of our Direct Aid Program projects in 2018 will focus on women's health and empowerment through support for Nauru Women's Rugby.
During the consultation and design for the new Community Sports Complex Etangit Karamwen we have ensured that gender is considered and all people, including and especially women, are able to use the facility. For example we have given thought to making sure there are separate and appropriate bathroom and changing facilities, and included a playground area for young children so that mothers and fathers can be confident that while they are exercising, their children are in a safe environment.
We also have focused and targeted support for advancing gender equality and women's empowerment in partnership with Nauru. There are now two women elected in Parliament, and I hope there will be more female candidates at the next election, an objective we support through the Transformational Leadership program in partnership with UN Women and a pratice parliament workshop.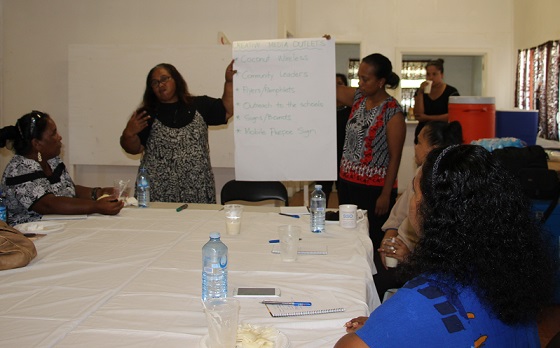 Through our Pacific Technical Assistance Mission we fund a specialised Gender-Based Violence Advisor who works across government to put in place strategies and measures to prevent gender-based violence. This complements the work done by our Australian Federal Police colleagues, who work closely with the Nauru Police Force.
We recently engaged a Gender Adviser at the Australian High Commission, who is currently visiting Nauru. She is working with all our staff to finalise the next Nauru Country Gender Plan and ensure gender equality is considered across all of our engagement.
I am also pleased to announce that today on my last day, and as a part of Australia's commitment to the 16 Days of Activism Against Gender Based Violence, we have launched a Family and Domestic Violence Policy and Action Plan for the Australian High Commission in Nauru. This is important to me, to ensure we are walking the talk on the programming we support. I feel proud to leave such a fine team of people and know that they are protected in the rights we advocate for all Nauruans.
During my two years here, our partnership with Nauru has seen positive progress. Gender equality is a challenge shared by both Nauru and Australia, and working together we can share learnings and achievements over time. My team and I have been highly active in promoting agreed gender equality priorities in partnership with Government of Nauru. There is much more to do, and I know that my successor will continue the excellent work to date.
A week in the life of the High Commissioner: snapshot into the Australia-Nauru partnership
High Commissioner John Donnelly, 14 November 2017
Busy times on pleasant island! I thought it was worth giving a glimpse of my work over the last couple of weeks, to give a flavour of what we do on a day-to-day basis.
Last week I co-chaired Senior Officials' Talks with our Nauruan counterparts. We had representatives from Canberra fly in for this important meeting to discuss successes and challenges from the past year, and think about the priorities and opportunities to come.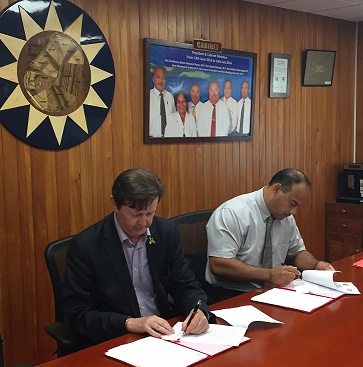 In the leadup to these Talks I signed with the Hon Minister for Finance David Adeang an updated Development Cooperation Program Memorandum of Understanding as well as a Joint Statement on Zero Tolerance to Fraud and Corruption. This builds on Nauru's existing commitments in this area.
I farewelled our 18 Australia Award scholarship recipients for next year, off to study in Australia and Fiji. I did a media interview on this support for education in Nauru, as well as soundbites for our Direct Aid Program, and a new agreement on testing pharmaceuticals.
Sports continue to feature prominently in our relationship. I was fortunate enough to do a leg of the 2018 Gold Coast Commonwealth Games Queen's Baton Relay. And on Melbourne Cup day I joined His Excellency President Baron Waqa and the Hon Minister for Sports Tawaki Kam for the groundbreaking of Etangit Karamwen, the new Multipurpose Community Sports Complex. Both these events benefited from local media coverage.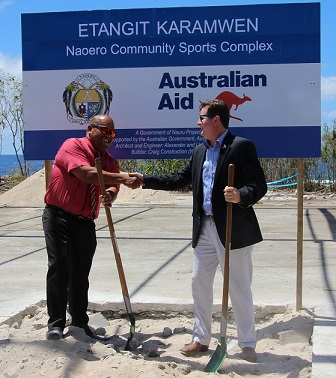 I met with the new Canadian High Commissioner to Nauru, as well as officials from the US Embassy in Suva, during their visits to Nauru. I also met with a visiting team from the Australian Bureau of Statistics, here to see what they can do to support Nauru's statistics and registry office.
We farewelled Deputy High Commissioner Dan Heldon with, among others, a last walk on the renowned "Bomber Track" – one of his favourite slices of Nauru – and welcomed our new Deputy Suzy Wilson-Uilelea. I hosted a welcome dinner for Suzy with our PACTAM advisors. These advisors are sourced from across the Pacific and who work inline in senior roles in Government of Nauru agencies.
Busy times indeed!
So how do we relax on pleasant island? Well, most mornings I check my Bureau of Meteorology tide calendar and if the tide is high – as it was recently after the new moon – go for a swim at beautiful Anibare harbour. This is a real sleeper – tide gauges have been installed at 14 locations across the Pacific and have been quietly gathering data for the last 20 years, helping us in our knowledge of changes in sea levels.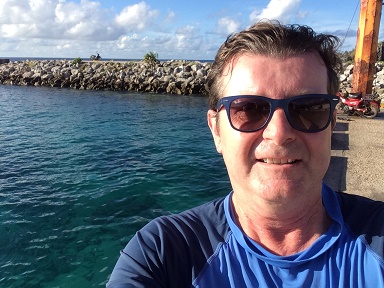 Selfie at the Boat Harbour!
And on Sunday afternoons I like to unwind snorkelling with friends. We're coming up to turtle season. Diving buddies have seen at 15-20 metres but one of the great delights of pleasant island is the ability to swim with turtles in 3-5 metres of water. Sighting a turtle or two really caps off my weekend!
We've recently launched the High Commission's Instagram account (@aushc.nauru). We'd love you to follow us to get regular updates on our activities.
Pleasant Island sports update: Australian football, Nauruan success
High Commissioner John Donnelly, 29 September 2017
"Some people believe football is a matter of life and death, I am very disappointed with that attitude. I can assure you it is much, much more important than that."
Thanks to Bill Shankly, former coach of UK soccer team Liverpool, for the above quote. And congratulations to the Nauru Chiefs, who finished an impressive fifth place in Division One of the International Cup held in Melbourne. This equals the Chief's best placing in the tournament, against tough opposition, and is a real credit to the players, coaches and others supporting the team.
The International Cup brings together teams from around the world, excluding Australia. This year it was held in Melbourne from 5-19 August, with 26 teams (both male and female) representing 21 nations.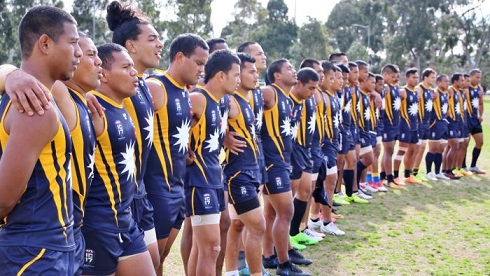 Photo: Aaron Kearney, ABC
Our shared passion for AFL is one of many things Australia and Nauru have in common. I'm looking forward to watching Crows and Tigers battle it out tomorrow with my Nauruan friends. As a Hawks tragic I would have liked to have seen more Nauruan-style energy, skills and fearlessness from them this season, though given I've been based in Canberra for some years I've developed a fondness for the GWS Giants (disappointing to see them lose last weekend!).
I'm proud that the High Commission can do its part to contribute to AFL and sport more broadly in Nauru. The Pacific Sports Partnerships Program supports a partnership between the Australian Government, AFL and the Nauru Football Association.
We provide support through the Ministry of Sport, including the highly successful Epon Keramen community sports program, which we have revived, and more recently supporting wider participation in sports and refurbishment of existing community sports facilities
We're working with the Government of Nauru and community organisations to fund active participation and identify priority facilities for refurbishment
We're also working with the Government of Nauru to progress a new Nauru Indoor Sports Centre.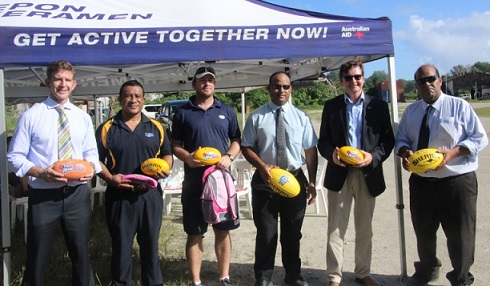 The benefits of sports participation are numerous. On an earlier posting I participated in a rugby league touch competition as a ring-in for the "Consular cases" team. We had a mixed team and did okay but the main benefits were our teamwork and supporting each other, sharing the event.
Apart from the obvious health benefits from keeping fit and active, shared participation in team sports promotes inclusion for all, including people with disabilities. An independent evaluation of Nauru's Epon Keramen found that the program facilitated shifts in attitudes and behaviours for healthier lifestyles – participants reporting that after the program, they reduced alcohol and tobacco intake, and ate more fruit and vegetables.
Sports participation also helps support women's empowerment and leadership, an issue we are deeply committed to through our development cooperation with Nauru.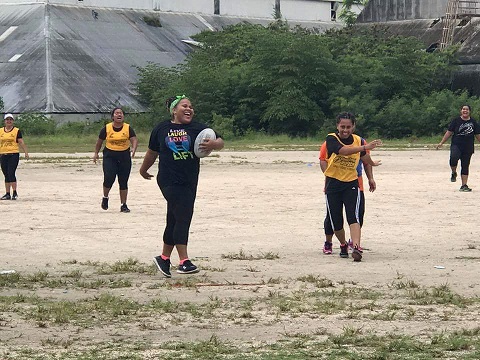 Tubwa and congratulations to the Nauru Chiefs, the Pacific Sports Partnership Program and the female rugby players for doing us all proud and getting involved in sports.
Anibare Boat Harbour Clean Up: Community and partnerships
High Commissioner John Donnelly, August 2017
What a day!
I'm still buzzing over a month on after the Anibare Boat Harbour Clean Up Day on 8 July. It was fantastic to see so many people in the community come together for a common goal: looking after Nauru's beautiful environment.
The Anibare Boat Harbour Clean Up was funded through the Australian Direct Aid Program (DAP) in partnership with the Nauruan community and other community-minded organisations. It was a Nauruan-owned and –led initiative championed by the district communities of Anabar, Ijuw and Anibare and their Parliamentary representatives, Hon Jaden Dogireiy MP and Hon Riddell Akua MP.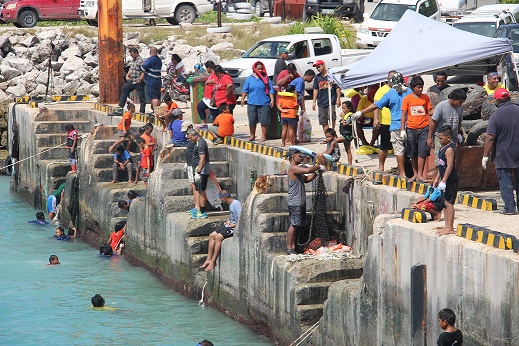 The Anibare Boat Harbour is one of the most beautiful community areas on Nauru, enjoyed by all for a refreshing swim and picnicing with family and friends, and manned by Nauru Lifeguards year-round. I have an image of it as my wallpaper on my phone!
The harbour is also one of the main areas used by local fishing boats. In certain months when the westerly winds become too strong, it becomes the default harbour for unloading container ships. Because of its heavy use by the community, fishing and shipping industry, it can quickly fall into disrepair.
This initiative was the local community, in partnership with Australian aid and other local organisations, taking ownership of the important issue of environmental pollution and working together so the Harbour can continue to be enjoyed by everyone.
We had a great turn out on the day with children, families and expatriates coming together to pick up rubbish, filled up skip bins, water blasting algae build-up and removing waste from the bottom of the harbour. We also set up permanent garbage bins so waste can be managed going forward.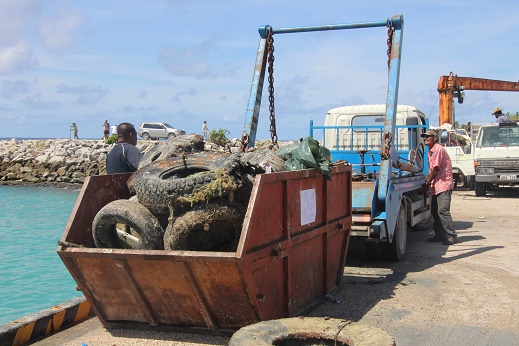 With combined Australian hard yakka and Nauruan mag rurn on the day the harbour looks so improved! I even joined the Hon Riddell Akua and local divers by donning the goggles and tank and collecting rubbish from the bottom of the harbour, with many helpers taking care of the waste that was on the surface. By mid-afternoon we even called in an extra skip bin!
And as well as a great outcome, the day was an enjoyable one shared with friends from near and far – thanks to Broadspectrum for putting on a free sausage sizzle, HOST International's free ice cream, and plenty of fruit, water and refreshments to fuel our efforts during the day.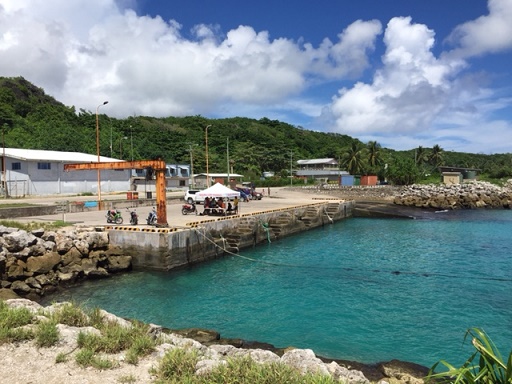 I know that everyone in the community will be working hard to make sure the harbour doesn't again become clogged with waste. It will require continued energy and enthusiasm, but the Clean Up Day showed the communities in Anabar, Ijuw and Anibare have that in truckloads.
At the recent Parliament sitting this month, a number of members paid tribute to the great success of the day – and a great desire to see much more of it in future!
It is these kinds of community-driven projects that the Australian High Commission on Nauru supports – look out for the 2017-18 DAP funding round, opening in the next few weeks.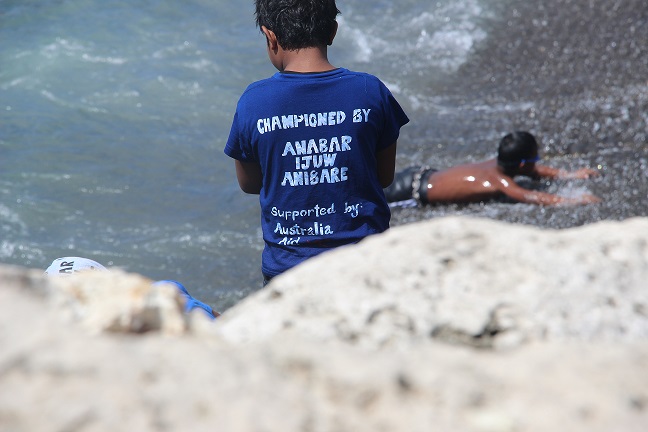 Championed by Anabar, Ijuw, Anibare; Supported by Australian Aid